What is robotic assisted surgery?
Robot assisted surgery, or robotic surgery, allows A/Prof Pilgrim to perform various complex procedures using the da Vinci Xi surgical system. The surgical system includes a camera, mechanical arms with surgical instruments, and is operated by A/Prof Pilgrim at a separate console that provides a high-definition, magnified, 3-D view of the surgery site. This world leading robotic surgery system translates A/Prof Pilgrim's hand movements in real time, but with a greater range of motion, making it possible for him to operate through a few small incisions.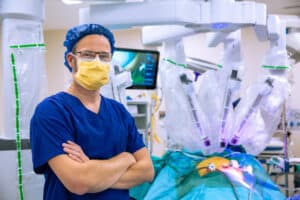 da Vinci Xi Surgical System
In 2000, the da Vinci Surgery System broke new ground by becoming the first robotic surgery system approved by the FDA for general laparoscopic surgery. This was the first time the FDA approved an all-encompassing system of surgical instruments and camera/scopic utensils.
If you would like to know more about robotic assisted surgery and would like to discuss treatment options with A/Prof Pilgrim, please make an appointment.
Benefits of Robotic Assisted Bariatric Surgery
Most robotic surgeries are minimally invasive. Laparoscopic (minimally invasive) surgery presents many benefits such as:
Few complications (infection)
Less pain
Quicker recovery times (less time spent in the hospital)
Smaller, less noticeable scars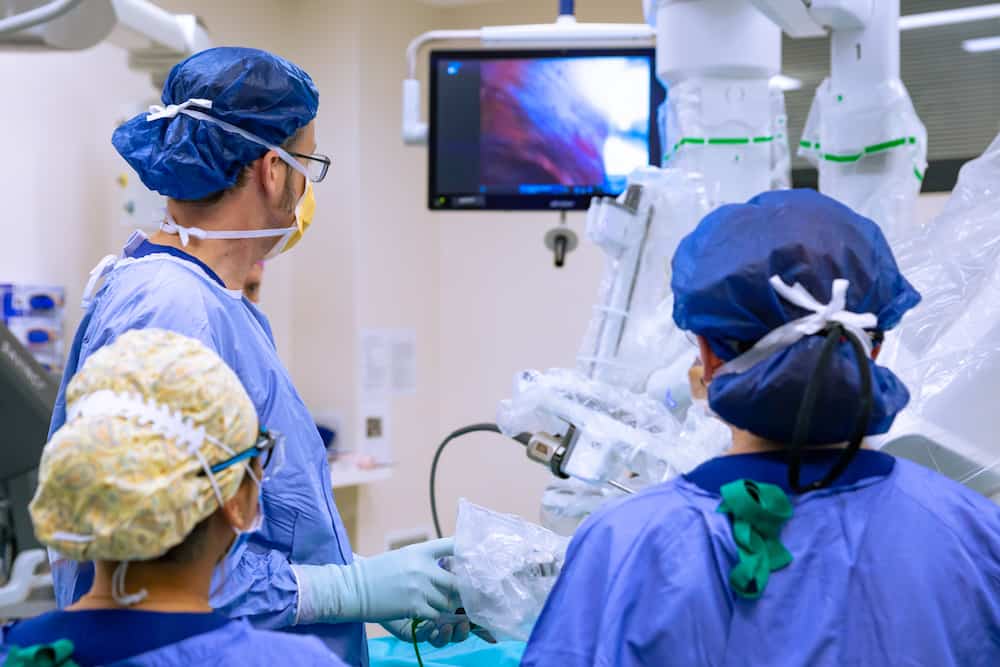 Robotic stapler as used during robotic sleeve gastrectomy
da Vinci SureForm stapling technology
SureForm is a new breed of stapling technology; at its core is SmartFire technology, which monitors tissue compression before and during firing, making automatic adjustments to optimize the staple line. A 120° cone of articulation gives your surgeon the freedom to approach tissue where it naturally lies, potentially reducing the need to manoeuvre tissue during your procedure1.
Allowing for 1,000+ measurements per second, SmartFire makes automatic adjustments to the activation process as the transection is being made to help optimize a consistent staple line and prevent tissue damage across a range of tissue thicknesses1.
1https://www.intuitive.com/en-us/products-and-services/da-vinci/stapling/sureform
"Robotic surgery has so many advantages over traditional keyhole laparoscopic surgery. The visibility of the operation I have as the surgeon in the robotic console is truly in 3D because the camera actually has two cameras built in – one for each eye delivering genuine 3D images. The computer interface between my hands and fingers and the instruments also means I am able to 'scale' my movements, meaning a larger movement of my hands on the outside can be translated into a smaller precise movements of the robot on the inside through small incisions. The robot also allows me to 'clutch' the instruments, holding the tissues and instruments exactly in place while I return my hands to their optimal working zone without losing grip of whatever I'm holding at the time. Ultimately, all these features makes robotic surgery easier and more efficient and I'm able to perform more complex surgical tasks with minimal difficulty, even performing surgery that otherwise would be too technically challenging with traditional keyhole approaches. Robotic technology continues to evolve and is clearly the way of the future. I'm proud to be involved as an early adopter of this revolutionary approach and to be able to offer the benefits of robotic surgery to suitable patients whenever it is appropriate."
A/Prof Charles Pilgrim
Robotic assisted bariatric surgery allows A/Prof Pilgrim to complete the sleeve gastrectomy with benefits over standard laparoscopic approach such as:
Improved vision compared with the standard laparoscopic view
Improved dexterity as the instruments have 'wrists' and can move in more subtle and
Less strain as the instruments can be 'clutched' so that the surgeon should never be in an awkward or uncomfortable position
The robotic stapler has advanced technology built in to ensure the staples are deployed safely and precisely
If you would like to know more about robotic bariatric surgery then please make an appointment with A/Prof Pilgrim, you can book an appointment online or make an appointment by calling the practice on (03) 9509 4811 to make an appointment
or
If you'd like to know more, leave us your details and message below